Zoom the image with the mouse
Men Black Bomber Fur Collar Leather Jacket
4 interest-free payments of $0.00 with
customers are viewing this product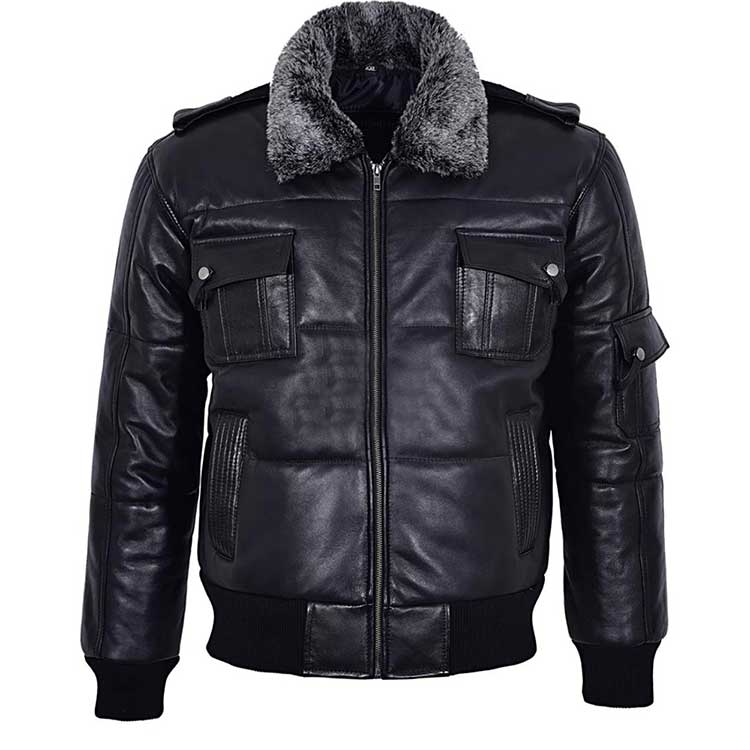 Short Description
Elasticized sleeves cuffs ensure a snug fit

Decorative shoulder tabs enhance the design

Front zippered closure for convenience and style

Outer material crafted from 100% genuine leather

Stylish fold-down collar adds a touch of sophistication

Versatile piece perfect for both casual and formal wear

Made with premium leather for lasting quality

1 armour pocket on the left upper arm for added functionality

2 side vertical pockets and 2 chest pockets for practical storage
Crafted with utmost precision, this jacket boasts a fold-down collar that adds elegance to your ensemble. The front zippered closure enhances convenience and exudes a sense of modern sophistication. Stay organized with the 2 side vertical pockets and 2 chest pockets, while the 1 armor pocket on the left upper arm adds a practical edge. The elasticized sleeves cuffs provide a snug fit, and the decorative shoulder tabs enhance the overall design.
Unleash Your Inner Maverick: Men Black Bomber Fur Collar Leather Jacket
Fierce Elegance
Introducing the embodiment of fierce elegance – the Black Bomber Fur Collared Leather Jacket. With a design that seamlessly melds edginess and sophistication, this jacket is a statement piece that demands attention. 
The fur collar adds a touch of opulence, elevating its allure. Whether you're navigating the urban jungle or stepping into a high-profile event, this jacket exudes confidence and style, making it an essential addition to your wardrobe.
Luxurious Warmth and Style
Indulge in a harmonious blend of luxurious warmth and impeccable style with the Black Bomber Fur Collared Leather Jacket. Crafted to protect you from the chill while elevating your fashion game, this jacket envelops you in sumptuous comfort. 
The fur collar not only adds a plush touch but also exudes sophistication. Whether you're layering it over casual attire or using it to refine your formal ensemble, this jacket ensures you stay cozy without compromising on style.
Rebel Edge Redefined
Redefining rebel edge, this jacket fuses boldness with refinement. The fur collar hints at opulence while the bomber design exudes a rebellious spirit. Whether you're embracing your adventurous side or setting trends on the city streets, this jacket is a symbol of confident individuality.
Let your outerwear reflect your daring personality and make a bold statement with the Black Bomber Fur Collared Leather Jacket.