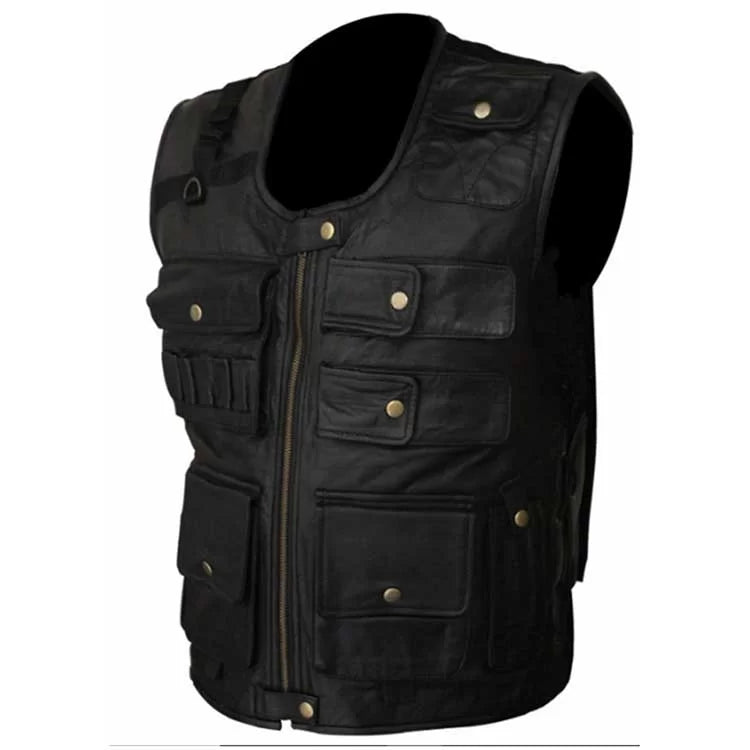 Short Description
Comfortable fit for an uninterrupted ride experience

Men Black Leather Vest Seven Pocket

Boosts confidence, making you feel ready for anything

Real leather ensures security and safety of your essentials

Crafted from finest quality leather, designed to age beautifully

Sleek black finish with seven sturdy buttons for a tough, edgy look

Highly functional with seven pockets, including two interior pockets
Rev up your style with our Black Biker Seven Button Pocket Leather Vest. Crafted from premium leather, this vest fuses rugged charm with functional finesse. Carry essentials effortlessly with multiple pockets. Feel confident and powerful as you hit the road in comfort.
Up The Ante with The Men Black Leather Vest Seven Pocket
Built to Endure
Embrace the rugged charm of the Men Black Leather Vest Seven Pocket, a true testament to durability. Meticulously crafted from top-tier leather, this vest is primed to withstand the test of time and the open road. 
Seven sturdy buttons complement the vest's design, showcasing a marriage of practicality and style. With multiple pockets, including interior compartments, this vest ensures functionality without sacrificing panache
. Step into this vest and feel invincible—its quality speaks volumes as it effortlessly accompanies you on your journeys. 
Practical & Versatile
Crafted from premium leather, this vest's timeless charm is rivaled only by its durability. Seamlessly blending form and function, its seven buttons and pocket ensemble harmonize to accommodate your essentials in style. 
Whether you're navigating the streets or embarking on an adventure, this vest is your reliable companion. Revel in its practicality without forgoing sophistication. Exude confidence and masculinity as you reveal a vest that captures the essence of both fashion and utility.
Craftsmanship Redefined
Constructed from genuine leather, this vest stands as a symbol of fine craftsmanship. The seven buttons not only enhance its design but also underline its utilitarian appeal. 
Carrying your essentials becomes effortless with the cleverly placed pockets, solidifying its status as a go-to accessory. 
Experience a seamless blend of style and substance as you don this vest—a testament to the art of clothing redefined for the modern man. Confidence radiates from its details, making every outing a statement of sophistication.