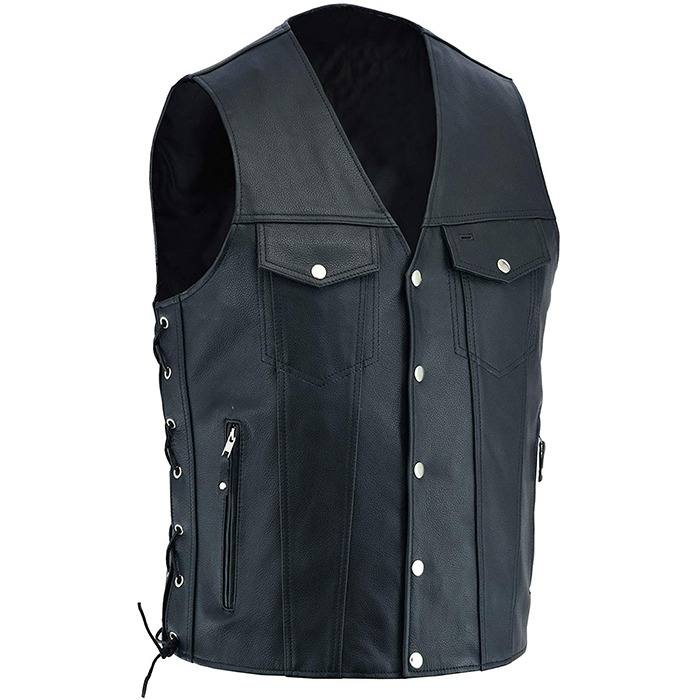 Short Description
Slim fit design for a tailored look

Front Closure Button for easy wear

Distinct V-Shape Collar for a unique touch

Crafted from genuine leather for quality assurance

Two open flap button pockets on the chest for functionality

Adjustable belts - strings provided on both sides of the waistline
The epitome of sleek elegance and functional design, our meticulously crafted vest is a must-have addition to your wardrobe. The distinct V-Shape collar adds a touch of sophistication while the front button closure ensures easy wear. Stay organized with two open flap button pockets on the chest, perfect for carrying essentials.
Unveiling Versatility: Men Black Leather Vest Side Zipper Pockets
Essential Traits
The hallmark of this vest lies in its distinct characteristics that set it apart. Side zipper pockets add a contemporary edge, merging convenience with fashion. Crafted from premium leather, it guarantees durability and a refined look. The vest's sleek silhouette and tailored fit ensure a flattering appearance, while the side zipper pockets offer functional storage options. 
In Focus: Key Features 
Navigate the details of the Men's Black Leather Vest with precision. Its defining feature lies in the side zipper pockets—enhancing the vest's functionality while maintaining its sleek aesthetic. Crafted from premium materials, it exudes sophistication and durability. 
The tailored fit accentuates your silhouette, radiating confidence. The side zipper pockets provide a modern twist, enabling secure storage while emphasizing style. 
This vest is more than an accessory; it's an embodiment of contemporary fashion that seamlessly integrates form and function for the discerning gentleman.
Unmasking Distinctiveness
The true allure lies in its signature attributes that define its uniqueness. Side zipper pockets offer an innovative fusion of practicality and elegance, catering to modern lifestyles. Crafted from high-quality leather, it captures both durability and refined aesthetics. 
The vest's tailored silhouette ensures a flattering fit, while the side zipper pockets infuse a modern edge. Embrace the fusion of style and functionality, as this vest epitomizes contemporary menswear—an emblem of confident charm and individuality.