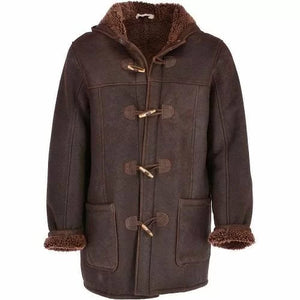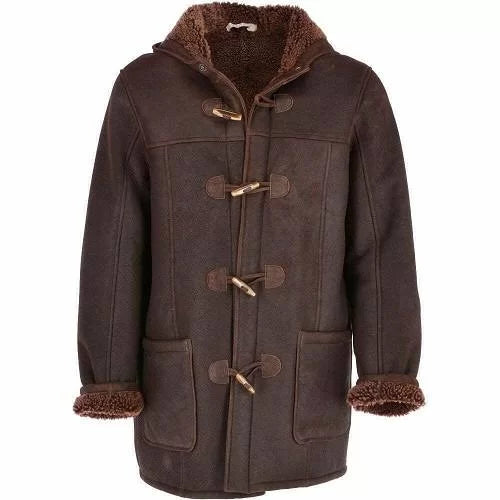 Short Description
Detachable hood for versatile styling

2x front pockets for convenient storage

Full-length fur cuffs sleeves for a luxurious touch

Front toggles closure for added warmth and style
Dress to Impress This Winter: Hood that can be removed, luxurious fur cuffs, and toggles at the front Elegant and functional best describe the closure. Discover a chic and functional piece of clothing for the upcoming winter season.
Urban Sophistication: Men Brown Fur Duffle Long Coat with Detachable Hood
Style That Transcends Trends
Indulge in timeless style with our Duffle Coat Long Brown Fur Detachable Hooded. Its urban sophistication brings an air of elegance to your ensemble, effortlessly blending classic design with contemporary charm. Whether worn casually or for a special occasion, this coat's aesthetic versatility ensures you stand out with every step.
Craftsmanship and Quality Redefined
Experience the pinnacle of quality in craftsmanship. Meticulously designed, this duffle coat boasts premium materials and exquisite tailoring. The genuine fur detachable hood and intricate detailing reflect our commitment to delivering a coat that's not only stylish but also built to last, ensuring enduring warmth and comfort.
Uncompromising Usability and Functionality
The detachable hood adds a layer of adaptability to your wardrobe. With a focus on usability, this coat offers both warmth and convenience, making it an ideal companion for urban life. From chilly city walks to weekend getaways, this duffle coat effortlessly combines style with practicality, redefining how you approach winter fashion.
Taylor Jon: A Standout in the Fashion Realm
Taylor Jon stands out as a beacon of excellence in the world of fashion, setting new standards and redefining the art of style. What sets us apart is our unwavering commitment to craftsmanship, innovation, and individuality. From the inception of each design to the final creation, Taylor Jon embraces a philosophy of meticulous attention to detail, ensuring that every piece is a masterpiece of sophistication.
Our dedication to quality materials is unparalleled. We source the finest fabrics and materials to create clothing that not only looks exceptional but also feels luxurious against your skin. Taylor Jon pieces are more than garments; they're a testament to the fusion of elegance and comfort.