Zoom the image with the mouse
Men Dark Brown Shearling Fur Collar Leather Jacket
4 interest-free payments of $0.00 with
customers are viewing this product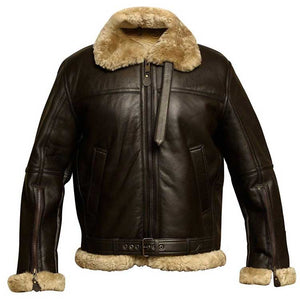 Short Description
Luxurious warmth with a soft synthetic fur lining

Distinctive style accentuated by cuff's fur and belts

Crafted from high-quality leather

Durability meets elegance with an original YKK zipper front closure

Personalized style and fit with adjustable buckle straps on the fur collar

Convenient storage with side slash pockets and a small upper arm pocket
Wrap Yourself in Luxury: Fur Collar Leather Jacket - Where Warmth Meets Style,  leather with Fur Accents, Adjustable Buckle Straps, and Pockets for Your Essentials.
Timeless Elegance: Men Dark Brown  Shearling  Fur Collar Leather Jacket
Aviator Style Redefined
This jacket harmoniously blends classic aviator aesthetics with modern craftsmanship. The shearling fur collar exudes luxury, while the black leather showcases sophistication.
Buckle up with adjustable straps for a personalized fit, and indulge in the warmth of the soft shearling lining. The YKK zipper front closure ensures durability and ease. 
With practical side slash pockets and meticulous detailing, this jacket is a testament to timeless style and functionality.
Unparalleled Warmth and Style
Wrap yourself in a symphony of warmth and style with our Shearling Aviator Jacket for Men. Immerse yourself in the embrace of shearling fur collar, shielding you from the chill while exuding elegance. 
The meticulously crafted black leather exterior is both robust and refined. Adjustable buckle straps offer a personalized touch, while the YKK zipper front closure guarantees enduring use. 
Experience the convenience of side slash pockets and a small upper arm pocket. With fur-adorned cuffs and belts, this jacket is a fusion of practicality and unmistakable style.
Masterful Craftsmanship Unveiled
The aviator-inspired design comes to life through the meticulously detailed shearling fur collar, delivering a touch of luxury to your ensemble. 
The black leather exterior is a testament to both durability and timeless style. Adjustable buckle straps ensure a snug fit, while the YKK zipper front closure guarantees longevity. 
Indulge in practicality with side slash pockets and an upper arm pocket. Complete with fur-trimmed cuffs and belts, this jacket encapsulates unparalleled artistry and functional fashion.