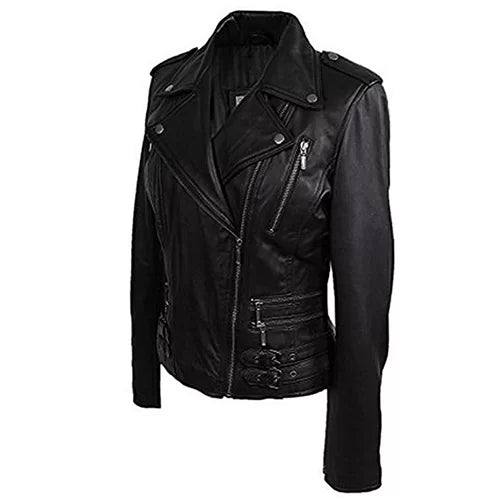 Women Black Biker Vintage Rock Style Leather Jacket
Regular price

$370.00

Sale price

$189.00

Unit price

per
4 interest-free payments of NaN with
Please hurry! Only 1000 left in stock
10 customers are viewing this product
Short Description
Classic shirt-style collar for timeless appeal

2x chest pockets provide both style and functionality

Original YKK zipper ensures durability and authenticity

Zip cuffs and waist allow for adjustable fit and added style

Asymmetrical closure adds a hint of edginess to the design

Epaulettes with press studs on the shoulders for a stylish touch

Crafted from 100% genuine leather for premium quality and authenticity

Double short strap and buckle detailing at lower waist level for unique flair
Unleash Your Inner Rockstar: Women Black Biker Vintage Rock Style Leather Jacket
Distinctive Design Elements for Unmatched Style
Its distinctive design elements, from the women biker jacket look to the vintage rock-style details, create an ensemble that exudes confidence and attitude. 
The combination of the iconic biker silhouette and unique rock-inspired accents make this jacket a statement piece that demands attention and sets you apart from the crowd. Embrace the fusion of vintage aesthetics and modern edge, ensuring your style speaks volumes.
Functional Features that Elevate Your Experience
The Women Black Biker Vintage Rock Style Leather Jacket not only offers remarkable style but also practicality that enhances your everyday experience. The asymmetrical closure adds a touch of rebellion, while the double short strap and buckle detailing at the lower waist level exude authenticity. 
With original YKK zippers ensuring durability, 2x chest pockets for convenience, and zip cuffs and waist allowing personalized fit, this jacket seamlessly blends fashion and function to complement your lifestyle.
Craftsmanship and Quality that Stand the Test of Time
Crafted with meticulous attention to detail, the Women Black Biker Vintage Rock Style Leather Jacket showcases the artistry of exceptional craftsmanship. The fusion of genuine leather and vintage rock-inspired design elements ensures lasting quality that transcends trends. 
This jacket becomes a symbol of individuality and durability, embracing the spirit of timeless rock culture while offering a versatile, relevant style. Invest in a piece that echoes your style and stands as a testament to enduring craftsmanship.
Elevate your fashion game with the TaylorJon Women Black Biker Zipper Leather Jacket . This iconic piece combines timeless elegance with a rebellious edge, making it a must-have for every stylish woman. Crafted with precision, it exudes confidence and attitude, ensuring you stand out wherever you go. Embrace the power of timeless fashion with this statement jacket – a true embodiment of style and individuality.