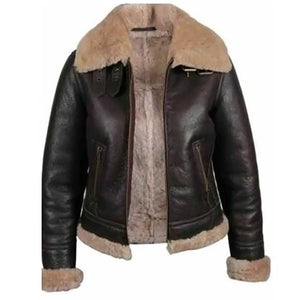 SHORT DESCRIPTION
Luxurious fur collar adorned with stylish belted straps

Convenient dual waistline pockets for practical storage solutions

Shearling cuff sleeves provide cozy warmth and elegant detailing

Crafted from premium leather for an impeccable and sophisticated look
COMPOSITION
100% Quality Leather
"Simplicity is the ultimate sophistication!" - Leonardo da Vinci"
EDITOR'S NOTE - WOMEN BROWN SHEARLING FUR COLLAR LEATHER JACKET
Crafted meticulously, each jacket exudes a narrative of daring elegance, a testament to the artisanal craftsmanship we pride ourselves in.
Imagine the allure of a pristine beige-brown fur collar that harmonizes seamlessly with the sleek black leather, conjuring an aesthetic that is both bold and refined. 
This is a symphony of contrasts, a harmony that resonates with the woman who seeks to make a statement without uttering a word. The meticulous placement of two slashed zipped pockets adds functional allure, while the waist belt serves as an artful touch to contour the form.
Our Women's Brown Shearling Fur Collar Leather Jacket is more than attire; it's an embodiment of aspiration. An heirloom piece designed to transcend generations, blending the artistry of tradition with the verve of modernity. 
Here at Taylor Jon, fashion meets legacy, where every stitch weaves a tale of style, sophistication, and audacious grace.
Elevate your winter style with the timeless elegance of a TaylorJon Women Brown Shearling Fur Leather Jacket. Crafted to perfection, this jacket combines the warmth of shearling fur with the sophistication of genuine leather. Whether you're strolling through the city or cozying up by the fireplace, embrace both comfort and fashion with this iconic piece from TaylorJon.