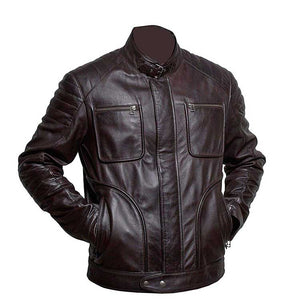 Short Description
Reinforced stitching ensures enduring wear

Adjustable belt feature for a personalized fit

Crafted from high-quality leather for lasting durability

Earthy brown color adds sophistication and rustic charm

Heavy-duty zippers and metal components for robustness

Two side pockets and chest compartments offer ample storage

Built to withstand wear and tear and protect against the elements

Biker detailing on shoulders and sleeves enhances the rugged appeal
Make a Statement with the Men Brown Biker Belted Collar Cafe Racer Leather Jacket:
This fashion-forward outerwear choice is perfect for both motorcycle enthusiasts and trendsetters. The jacket features an iconic cafe racer design, coupled with a belted collar that exudes timeless chicness.
Durable Design and High-Quality Materials
Crafted from high-quality leather, this well-designed jacket is made to withstand wear and tear, ensuring long-lasting durability and protection from the elements. The earthy brown color creates a sophisticated yet rustic aura, further enhanced by the biker detailing on the shoulders and sleeves.
Ample Storage and Thoughtful Details
Equipped with two side pockets and chest compartments, this jacket ensures you'll never lack room for your everyday items. The jacket's design reflects careful consideration, from the heavy-duty zippers and metal components to the reinforced stitching that guarantees its ability to handle daily wear.
Personalized Fit and Stylish Versatility
Whether you prefer the collar up or down, the adjustable belt feature allows for a personalised fit that caters specifically to your body type. With its plentiful pockets, this jacket is equally suitable for everyday use and motorcycle trips. Its practicality is matched by its style – wear it with comfortable jeans and T-shirt combos or pair it with slacks and button-down shirts.
A Wardrobe Staple
Incorporating high-quality craftsmanship and enduring style, the Men Brown Biker Belted Collar Cafe Racer Leather Jacket is sure to become a staple in your wardrobe, perfectly blending rugged charm with timeless elegance.
How To Care For Your Jacket?
For maximum protection of your jacket, keep these steps in mind. Utilize a soft brush or cloth for cleaning the leather without any harsh chemicals to avoid damaging it. Apply a protective leather conditioner to guard against dirt and moisture accumulation if desired. To clean off spills and stains, use only mild soap and warm water; never scrub harshly as this can cause discolouration. 
Rev up your style with the TaylorJon Men Brown Biker Leather Jacket With Cream Stripes featuring sleek cream stripes. It's the perfect blend of classic and modern, designed to make a statement. Get ready to ride in style!