Zoom the image with the mouse
Men Brown Biker Brando Retro Leather Jacket
4 interest-free payments of $0.00 with
customers are viewing this product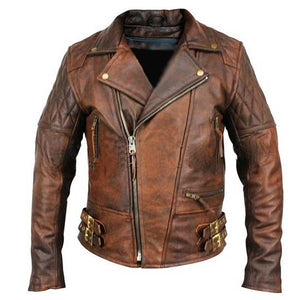 Short Description
100% genuine leather ensures durability and quality.

Provides both comfort and weather protection in one.

Designed to shield against weather while offering maximum comfort.

Brando Brown Biker Retro Leather Jacket, a head-turner for any gender.
Whether you're a man or woman, the Men Brown Biker Brando Retro Leather Jacket will have heads turning with its classic, timeless style. Carefully crafted from 100% genuine leather and designed to give maximum comfortability while protecting against unfavorable weather conditions, this jacket is your go-to for making an unforgettable statement.
Craftsmanship and Comfort - Men Brown Biker Brando Retro Leather Jacket
The Retro Leather Jacket is a masterpiece meticulously constructed from the finest genuine leather. Its durability and comfort surpass expectations, providing a luxurious feel against your skin.
Timeless Style and Functionality
Designed  with timeless style and a hint of retro flair, this jacket boasts a slim design adorned with details. From the snap-tab collar to the zippered cuffs and multiple pockets, it doesn't just offer a fashionable look but also practical functionality suitable for any occasion.
Versatility in Brown
The sleek brown color of the jacket adds a touch of sophistication to countless outfits. Its versatility knows no bounds, making it a perfect match for a variety of styles. With sizes ranging from XS to XXXL, achieving the perfect fit is effortless.
Care and Maintenance
Preserving the Brando Brown Biker Retro Leather Jacket's quality is easy. Opt for professional cleaning and store it in a cool, dry place to ensure its lasting allure.
This jacket isn't merely clothing; it's an embodiment of excellence in craftsmanship and design.
Why Choose Taylor Jon
When considering a purchase from Taylor Jon, you're investing in a brand synonymous with excellence. The Men Brown Biker Brando Retro Leather Jacket is a testament to their commitment to quality and craftsmanship. The jacket is constructed from high-grade materials, ensuring that it not only offers a stylish look but also stands the test of time with minimal maintenance required.
This jacket isn't just about fashion; it's about the fusion of comfort and style. You'll not only look great, but you'll also have the assurance that your choice of attire has your back in protecting you from the elements. Should you ever have any questions or concerns about your jacket, Taylor Jon's exceptional customer service team is readily available to provide assistance.
Rev up your style with the Men Black Biker Skull Ride Leather Jacket. For a premium riding experience, choose TaylorJon. Get yours today!