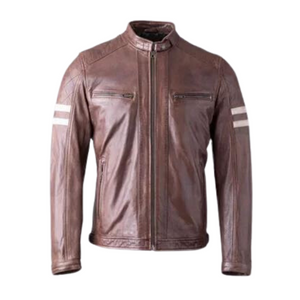 Short Description
Fashionable and refined design

Perfect addition to any wardrobe

Inviting cognac hue adds timeless allure

Subtle yet eye-catching, making the jacket stand out

Cream stripe along sleeves and sides adds stylish accent

Made from premium-grade leather materials for durability
Crafted from premium-grade leather, this jacket promises both durability and sophistication. The inviting cognac hue effortlessly enhances its refined design, making it a perfect addition to every wardrobe. Its subtle yet captivating cream stripe adorns the sleeves and sides, adding a touch of flair that sets this jacket apart.
Ride in Style: Men Brown Biker Leather Jacket with Cream Stripes
Striking Design: A Visual Symphony
Derived from the spirit of motorcycling, it captures an exquisite fusion of timeless echoes and modern reverberations, emanating an audacious allure that irresistibly captures the gaze. The interplay of these design facets imparts an unparalleled singularity to this jacket, making it a reverberating statement of individuality and panache.
Unyielding Leather Craftsmanship
Immerse yourself in opulent grandeur with our meticulously fashioned Men's Brown Biker Leather Jacket. Crafted from supreme leather, this embodiment of tenacity and elegance resonates. 
Its pliant texture guarantees comfort and seamless movement, as the exceptional leather quality assures an enduring investment in your wardrobe, maturing gracefully as time unfurls. Revel in the exquisite sensation of craftsmanship that unequivocally elevates this jacket above the ordinary.
Amplifying Your Style Quotient
The inviting cognac hue infuses an air of refinement into any ensemble, orchestrating a harmonious equilibrium oscillating between rugged and polished. Embrace the jacket's versatility as it effortlessly morphs to match diverse fashion sensibilities, empowering you to articulate your distinctive style quotient with each wear, creating an indelible impression at every turn.
Explore the perfect blend of style and attitude with the Men Black & Yellow Biker Leather Jacket With White Line. Elevate your fashion game with TaylorJon - the ultimate choice for premium leather jackets.