Zoom the image with the mouse
Men Brown Bomber Fur Collar Leather Jacket
4 interest-free payments of $0.00 with
customers are viewing this product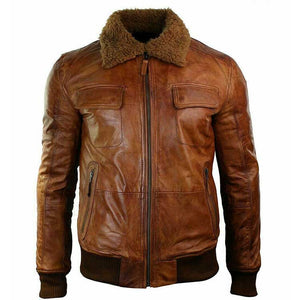 Short Description
Dropdown collar adorned with shearling

Ribbed hem sleeves and waistline for a snug fit

Crafted from top-quality real brown leather

2 waist front pockets and 2 chest flap pockets for practical storage
The dropdown collar with shearling adds a touch of sophistication, while ribbed hem sleeves and waistline ensure a comfortable fit. With 2 waist front pockets and 2 chest flap pockets, this jacket combines practicality with fashion. Crafted from top-quality real brown leather, it's a must-have addition to your wardrobe.
Luxurious Warmth: Men Brown Bomber Fur Collar Leather Jacket
Best Quality for Your Investment
This jacket stands as a testament to the harmonious fusion of top-tier quality and affordability. Crafted to exceed expectations, it offers exceptional durability without compromising on style. 
Each aspect, from the luxurious fur collar to the intricate stitching, reflects our commitment to providing unmatched value. Elevate your wardrobe with a piece that speaks to your style sensibilities and ensures enduring quality, making it a truly worthy investment.
Durability that Endures
Experience the promise of longevity with our Brown Bomber Fur Collar Genuine Leather Jacket. Meticulously constructed from the finest materials, this jacket embodies durability that goes beyond mere seasons. 
The genuine leather is selected for its robust nature, ensuring that it withstands the test of time while acquiring a distinct character over the years. The ribbed hem sleeves and waistline contribute to its resilience, making it a reliable companion for years of wear. 
Iconic Style Redefined
Elevate your fashion statement with the MEN LEATHER BOMBER JACKET, a masterpiece of iconic style redefined. This jacket not only epitomizes timeless elegance but also exudes contemporary flair, making it a style icon in its own right. 
The shearling fur collar adds a touch of opulence, while the ribbed detailing enhances the jacket's aesthetics. Crafted to embody versatility, it seamlessly transitions from casual to semi-formal occasions.
Experience timeless sophistication with the Men Brown Bomber Belted Leather Jacket from TaylorJon. Crafted to perfection, this jacket seamlessly blends style and functionality. Elevate your wardrobe with TaylorJon today!