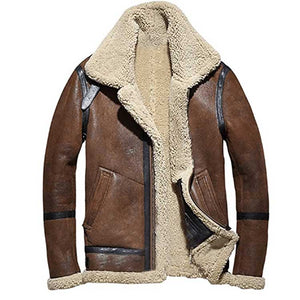 Short Description
Crafted from 100% genuine leather for durability and quality

The distinctive two-tone brown color scheme adds a unique touch

Luxurious fur lining on the interior provides warmth and comfort

 shearling detailing on collar, cuffs, and waistline for a stylish look

Features a classic distressed bomber style for a vintage-inspired appeal
Elevate your style with our stunning distressed bomber jacket in a captivating two-tone brown. Experience the luxurious comfort of shearling on the collar, cuffs, and waistline while staying cozy with the plush fur lining inside. Crafted from 100% genuine leather, this jacket blends timeless charm with modern flair for a statement piece that's as unique as you are.
Unleash Your Bold Style with our Men Brown Shearling Bomber Fur Leather Jacket
Elegantly Distressed Design
Experience a harmonious fusion of style and history with our Men's Brown Shearling Bomber Fur Leather Jacket. The rich two-tone brown palette effortlessly catches the eye, while the distressed bomber style encapsulates a timeless allure reminiscent of days gone by. 
Every detail of this jacket is meticulously designed to invoke a sense of vintage charm, making it a statement piece that speaks volumes about your unique taste and personality.
Luxurious Comfort and Warmth
Wrap yourself in a world of opulence and warmth with our carefully crafted shearling bomber. The shearling accents adorning the collar, cuffs, and waistline amplify the jacket's visual appeal and provide an indulgent touch of comfort. 
Step inside, and you're embraced by a sumptuous fur lining that's plush and cozy, promising to keep you snug during even the chilliest days. This jacket isn't just an outer layer; it's a cocoon of luxury.
Craftsmanship and Material
When it comes to quality, we spare no expense. Our Men's Brown Shearling Bomber Fur Leather Jacket is a testament to our commitment to craftsmanship. 
Constructed from 100% genuine leather, it stands as a symbol of durability and endurance. The leather's texture and strength are complemented by the expertly curated distressed detailing, adding character to every inch. 
The result is a jacket that not only radiates style but also offers a lasting investment, reflecting the dedication poured into its creation.