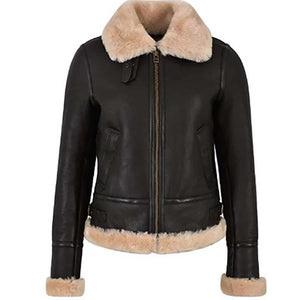 SHORT DESCRIPTION
Featuring a stylish wide collar adorned with two chic snap-buckle tabs, exuding a bold and fashionable statement.

Slanted side pockets for a touch of modern elegance and convenient functionality.

The back yoke adds a structured yet graceful element to the design, enhancing its overall aesthetic appeal.

Luxurious shearling lining graces the collar and cuffs, providing both a cozy warmth and a touch of refined texture.

Elevating the waistline's charm are snap-tabs on both sides, showcasing meticulous attention to detail and a tailored fit.
COMPOSITION
100% Real Leather
"A leather jacket is like a best friend: it's always there for you when you need it"
EDITOR'S NOTE - WOMEN BLACK AVIATOR LEATHER JACKET
Introducing the epitome of elegance: the Women's Black Aviator Leather Jacket. This masterpiece transcends fashion boundaries, making a resounding statement. Crafted from the finest leather, its durability stands strong against the test of time. 
Elevate your style with the timeless elegance of a TaylorJon Women Black Aviator Hooded Leather Jacket. Crafted to perfection, this jacket combines the bold attitude of aviator design with the sophistication of genuine leather. Whether you're heading out for a casual day or a night on the town, this jacket will effortlessly complement your look while keeping you warm and stylish. Make a statement with TaylorJon's iconic blend of fashion and comfort, setting a new standard in women's outerwear.
The luxurious shearling lining envelopes you in a cocoon of comfort, shielding you from the cold with grace. A symphony of style and adaptability, it effortlessly transitions from casual to formal settings. The zipper-adorned front exudes modernity, while the fur collar adds a hint of opulence. 
Meticulous craftsmanship is evident in every stitch, a testament to unparalleled quality. Elevate your wardrobe with an ode to sophistication that redefines timeless allure.