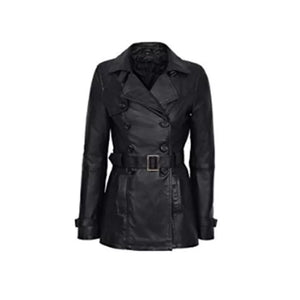 SHORT DESCRIPTION
Crafted from premium quality genuine leather

Slim-fit waist belt, sculpting an exquisite silhouette

Two waist slash pockets, a fusion of style and functionality

Double-breasted button closure, a mark of timeless sophistication

Full sleeves radiating warmth, enhanced by adjustable buckle belted cuffs

Broad notch lapel collar adorned with belted straps, exuding refined elegance
COMPOSITION
100% Premium Quality Genuine Leather
"Taylor Jon brings vogue sensibilities to the fore"
EDITOR'S NOTE - WOMEN BLACK COAT CLASSIC MID-LENGTH LEATHER
A revered cornerstone of any wardrobe, it emanates an aura of eternal elegance and sophistication, a clarion call to elevate one's style to remarkable heights.
Leather, a symphony of nature's artistry, unfurls its legacy of durability and adaptability. An embodiment of strength, it steadfastly endures the rigors of daily life, embracing wear and tear as mere companions.
 Its resilience extends to water and wind, a steadfast shield against the caprices of inclement weather. Furthermore, leather breathes with a whisper of comfort, embracing every temperature with equanimity.
The leather coat's true marvel lies in its chameleon-like versatility. A women's black classic mid-length leather coat gracefully navigates the spectrum of occasions. It dances with elegance, whether gracing the corridors of professional engagements, the allure of formal galas, or the ease of casual rendezvous. This coat is the quintessential embodiment of grace, class, and versatility.
The Women Blazer Genuine Leather Coat is a testament to perpetual style, as the color black endures beyond the constraints of time. Its ageless allure resides in its adaptable nature, seamlessly harmonizing with a spectrum of hues. Black's slenderizing charm embraces all body types, a fitting complement to its sartorial grandeur.
The coat's mid-length silhouette is poetry in motion. Draping just above the knee, it bridges the realms of elegance and practicality. This length envelops with grace while enabling effortless movement, a testament to its design's exquisite equilibrium.
Discover timeless elegance with the TaylorJon Women Brown Leather Duffle Coat. This exquisite long coat features a hood for added warmth and style. Crafted from premium leather, it exudes sophistication while keeping you cozy. Elevate your fashion game with this iconic piece.