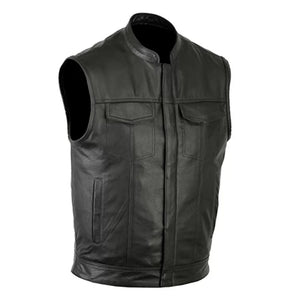 SHORT DESCRIPTION
2 slash waist pockets for convenient storage

2 chest pockets for added functionality and style

Euro-style scoop collar for a distinct and fashionable look

Crafted from soft naked for a luxurious and comfortable feel

Front zip closure combined with 4 hidden snap buttons for secure fastening
COMPOSITION
100% Genuine Leather
"A touch of leather, a touch of luxury"
EDITOR'S NOTE - WOMEN BLACK LEATHER VEST BIKER STYLE
Gear up in style with the black leather motorcycle vest – a fusion of protection, fashion, and functionality. In this article, we delve into the world of these essential vests, exploring their features, benefits, and diverse styles to match every rider's preference.
When you hit the road on your motorcycle, safety is paramount. The black leather motorcycle vest stands as your shield against abrasion and impact. 
Crafted from durable leather, it forms an impenetrable layer between you and the elements, safeguarding you from potential harm. 
Enhanced with reinforced padding, it takes protection to the next level by targeting critical areas such as the back, chest, and shoulders.
Its sleek black hue exudes timeless appeal, ensuring you ride in fashion-forward confidence. The supple leather material not only provides protection but also ensures comfort during long rides. Say goodbye to discomfort – this vest allows you to ride for hours without compromise.
Introducing the TaylorJon Women Black Leather Vest, a versatile fashion statement with four pockets for both style and functionality. This sleek vest combines the timeless appeal of black leather with the convenience of multiple pockets, making it a must-have for any modern woman's wardrobe. Whether you're heading out for a casual day or dressing up for a night out, this TaylorJon vest is the perfect choice to elevate your look with a touch of edgy elegance.