Zoom the image with the mouse
Women Brown Coat Hooded Long Leather
4 interest-free payments of $0.00 with
customers are viewing this product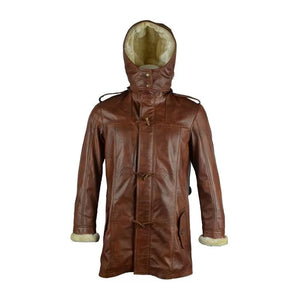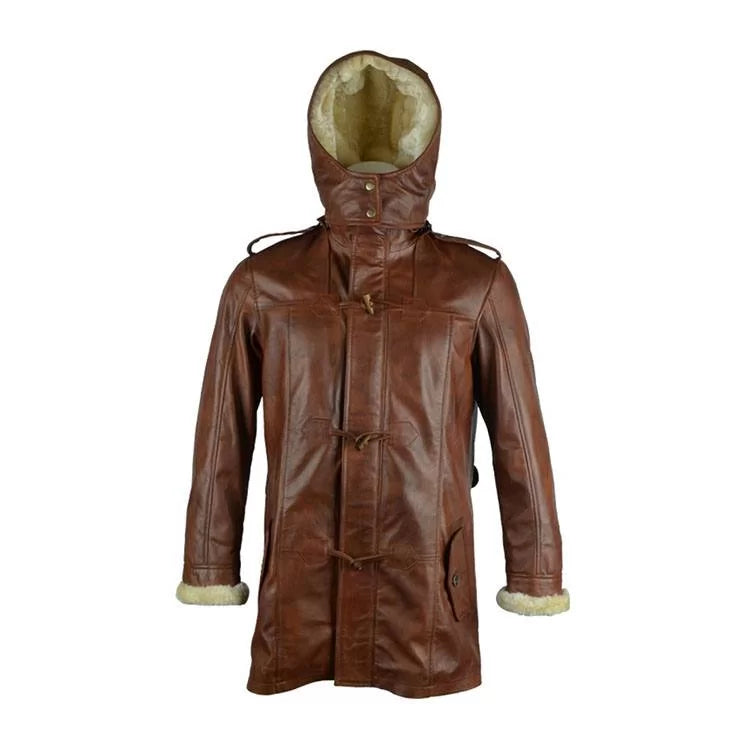 SHORT DESCRIPTION
Raising the stand-up collar for a unique flair

Shoulder epaulettes exude subtle elegance

Softly rounded fur cuffs provide lavish comfort

Front graced by three refined wooden toggles

Crafted with 100% genuine leather for authenticity

Convenient double-flapped pockets for practicality

Inner lining meticulously crafted from gentle viscose
COMPOSITION
100% Leather
"Jon Taylor's touch of exquisite craftsmanship graces every piece"
EDITOR'S NOTE - WOMEN BROWN COAT HOODED LONG LEATHER
The brown hooded leather long coat unveils a tapestry of history woven across the ages, with origins tracing back to the enigmatic era of the Middle Ages. 
In those storied times, leather emerged as the embodiment of attire and armor, celebrated for its unwavering durability and resplendent safeguard against nature's whims. 
The hooded grace, a testament to functional elegance, bestowed warmth and solace amid the cold embrace.
Across epochs, the brown hooded leather long coat metamorphosed into an emblem of sartorial distinction. The 1800s witnessed its embrace by gallant horseback riders, where its sweeping length and sheltering hood shielded them from the capricious winds and rains. 
The 20th century dawned upon aviators and pilots, who found sanctuary within its leather embrace, safeguarded from the elements while soaring amidst the heavens.
This coat is not merely a garment; it's a statement of enduring resilience and a symbol of heritage woven into fashion's fabric. It embodies time-tested wisdom, a tactile connection to eras bygone, and a canvas that whispers stories of those who journeyed before us. 
History's chapters unfold in the embrace of a brown hooded leather long coat, and the echo of centuries reverberates through its fibers.
Transitioning into a refined silhouette accentuates the supple material's essence, adding undeniable elegance to your leisurely ensembles.
Discover the timeless elegance of TaylorJon Women Black Leather Coat Blazer. Crafted with precision, this luxurious piece epitomizes sophistication. Whether it's a formal event or a casual outing, this coat blends seamlessly with any ensemble, making a statement that transcends fashion trends. Elevate your style with TaylorJon impeccable design and the enduring allure of black leather.