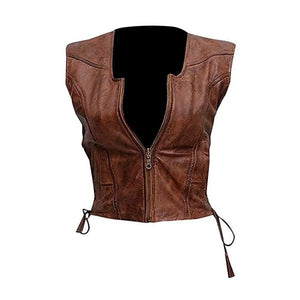 SHORT DESCRIPTION
Back yoke detail enhances the overall design

Open collar design for a stylish and versatile look

2x pockets for convenient storage and functionality

Laced sides add a touch of uniqueness and adjustability

Original YKK zippers known for their quality and durability

Front YKK zip closure ensures smooth and reliable fastening

Crafted from 100% genuine leather for authenticity and longevity
COMPOSITION
100% Genuine Leather
"A touch of leather, a touch of luxury"
EDITOR'S NOTE - WOMEN BROWN LEATHER VEST OPEN COLLAR
This vest boasts a strikingly sexy cut that effortlessly accentuates your figure, allowing you to enter wherever you go confidently. 
The exquisite tan hue, reminiscent of sun-kissed days, adds a touch of warmth to your ensemble, making it a versatile piece that transitions seamlessly through the seasons.
Crafted with meticulous precision, this vest becomes a canvas of sophistication. The open-collar design invites endless possibilities for layering, allowing you to experiment with various tops and textures. 
Its genuine leather construction showcases a dedication to both quality and style, ensuring that you look chic and feel comfortably snug.
Embrace the enchantment of versatility as you pair this vest with your favorite jeans for a casual yet captivating daytime look. Or take it a step further by draping it over a sleek dress, infusing an air of sensuality into your evening ensemble. 
With our Women's Tan Open Collar Leather Vest, you hold the key to fashion-forward self-expression.
Let this vest be your canvas for crafting unforgettable outfits that reflect your unique personality.
Discover the timeless elegance of
TaylorJon
Women Black Leather Vest Biker Style
. Crafted with precision and designed to exude confidence, this vest is the epitome of fashion-forward sophistication. Whether you're hitting the open road or making a statement in the city, this vest is your go-to choice for a sleek and edgy look that never goes out of style. Elevate your wardrobe with TaylorJon's Black Leather Vest and embrace the allure of the biker aesthetic with a touch of femininity.