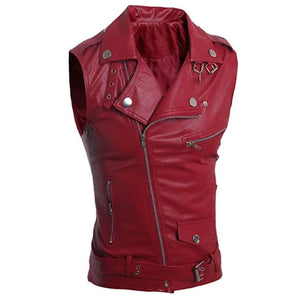 SHORT DESCRIPTION
Experience comfort with a quality polyester lining.

Define your silhouette using the waisted buckle belt for a personalized fit.

Command attention with a wide lapel collar embellished with studs and buckle belts.

Stay sleek with two open zip-closure pockets and an asymmetrical zip/button closure pocket.
COMPOSITION
100% Genuine Leather
"A little bit of leather, a whole lot of class"
EDITOR'S NOTE - WOMEN RED LEATHER VEST THREE POCKET
The meticulous stitching, the flawless lines, and the choice of premium materials converge to create a garment that exudes unmatched quality.
The deep red hue, reminiscent of passion and allure, adds an enigmatic touch. It's not merely a color; it's a statement, an embodiment of your distinctive style that resonates powerfully in every stride.
Immerse yourself in the lavish embrace of genuine leather – a tactile journey of refinement. It's not just a vest; it's an extension of your identity, promising not just durability, but an evolution of character with each wear.
This vest gracefully bridges the realms of fashion and function. Whether you're cruising on your motorcycle or stepping into a social setting, it effortlessly adapts, lending an aura of timeless elegance to every occasion.
Step into the Women's Red Biker Real Leather Vest world – where craftsmanship and design converge to create an experience beyond compare. Adorn yourself with a piece that's not just a vest but a testament to your appreciation for art, fashion, and the pursuit of excellence.
Elevate your style with the TaylorJon Women Brown Leather Vest. This exquisite piece features an open collar design that exudes sophistication and timeless charm. Crafted from premium brown leather, it's a versatile addition to your wardrobe, perfect for layering and adding a touch of elegance to any outfit. Whether you're dressing up for a special occasion or aiming for a chic everyday look, this TaylorJon vest is a must-have for fashion-forward women who appreciate quality and style.